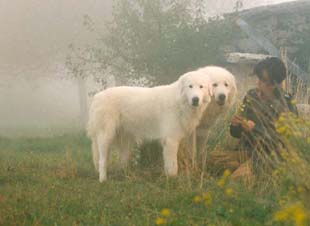 FACE TO FACE WITH THE BREEDER
Why did you choose the maremma sheepdogs?
I wouldn't say there was a particular reason, I just fell in love with this breed. I was a child, when I went to the dog show of Verona with grand ma. I was really curious to see all those breeds, but when I arrived to the ring of the maremma sheepdogs, I was so fascinated that I couldn't move away from there. I was 8 years old then, and I had to wait for another ten long years before the dream to own a dog of that breed came true. Eventually it arrived, it was a few month old female. I still remember that day as it was one of the best days of my life. At the time, the dogs used to live in the stable, and my maremma bitch got immediately possession of her territory.
Did you gather information before you purchased your first breeding stock or did you just follow your own instinct?
As far as the choice of the breed is concerned, it was definitelly my instinct to decide, but then I had 10 years to take information about it.
What about the foundations of your kennel?
Our bloodlines started from two Grandes Murailles bitches, bred by late Franca Simondetti. The first one was Selvapiana delle Grandes Murailles, a very high quality bitch, who is behind 80% of the Selvaspina maremmas. In 1988 Gelsomina delle Grandes Murailles arrived to our kennel, bringing a great contribution to our breeding program. She is remembered for the quality and refindness of her progeny, more than for the numher of her children. In 1988 we obtained the prefix "di Selvaspina". From there we started a strong breeding activity. Selvapiana produced four Italian champions in three different litters, and from her children we bred 11 Italian champions. Gelsomina produced in one only litter two Italian champions: Ch. Gira e Rigira di Selvaspina, who was Top Dog in 1995 and her litter brother Ch. Cattopardo di Selvaspina, who was Top Dog in 1996. A great contribution to our breeding selection was given by a great stud dog, who arrived to our kennel in 1987: Ch. Giro di Valzer. He was a dog of great type and beauty with an exceptionally strong genetic potential. He sired ten Italian Champions, of which three were in the same litter (ch. Acquarello di Selvaspina, ch. Acqua Marina di Selvaspina e ch. Acqua Chiara di Selvaspina).
The breeding activity: What is your philosophy?
I have always been convinced that the strength of a kennel is based on the quality of its brood bitches, which is the first rule for me. Our kennel has always been based on an unquestioned quality of the bitches, which is now a precious genetic pool to breed from.
What are the problems of this breed?
Like all the breeds based on the balanced of many qualities, problems come from excesses.
What is the ideal size for a very good maremma sheepdogs?
The right size is in the middle of the allowance of the standard.
Is it possible to obtain dogs of big size and excellent movement?
Of course it is, if you aim to balance strength and agility.
What is the importance of the head?
It is very important. The type of the dog comes mainly from its head. It's not possible to create the type from nothing. With a good breeding program you can improve construction faults, but not the type. Either you have or you haven't got it.
What are the difficulties when breeding maremma sheepdogs?
There are no major difficulties. Bitches are always good mothers and the breed is "healthy". Difficulties aren't often due to the dog: it is difficult to find good owners for this breed.
Temperament: Do you think maremma sheepdogs are good guardian dogs or do they just bark?
The maremma sheepdog is an excellent guardian dog. It is a defensive dog rather than an aggressive dog. He doesn't look for the fight with his adversary, but he is implacable when menaced.
So, it is a defensive dog.
This is a defensive breed, for its territory and everything is on it, people, children, animals.
What kind of people are looking for a maremma sheepdog?
First of all, people who already know this breed. Who has had a maremma sheepdog before, will always have maremmas. I would say, generally they're people of good common sense, people who don't need to subjugate a dog to feel they are somebody! People who love a natural dog, a working reliable dog, to whom they entrust their house and their faimly.
How much land is it necessary for a dog of this size?
It is not so important to have a lot of land, but a maremma loves to live outdoor, in the open air, naturally, through the different seasons of the year.
What is it like with other dogs?
A maremma can live with other dogs. He knows the rules of living in a pack. Unfortunatelly, the rules of the "pack" allow fights between adult males, therefore I wouldn't advise at all to keep adult male dogs together. This doesn't generally happen with females.
What is the behaviour of a maremma with children?
Maremmas tend to protect all defenceless beings, so they are quite protective with children. Especially bitches of this breed have a true devotion to children, as if they were their puppies.
Purchase: what age do you sell puppies?
Not before three months of age, both to complete all due vaccinations, and for a psycological reason: a puppy needs to play with his litter brothers and sisters, and also needs to learn from the adult dogs the rules of living in a pack. Even an ideal owner will never be able to teach him these rules.
When you sell a puppy, do you let the new owners make the choice or do you advise them?
I try to understand the needs of the new owner and I do advise him on the most suitable puppy for them. I have noticed that when I have done so, the result has always been good.
Do you think anybody can be a potential good owner for this breed?
The new owner must be informed on the features of the breed and it is up to us breeders to understand if the person in front of us deserves a maremma sheepdog. We have to advise people not to take him if we think they are not suitable for the dog or if the situation is inadequate.
Future: What is your ideal type of maremma sheepdog and how do you think to obtain it?
The ideal maremma sheepdog is always in a breeder's head. It is a target that a breeder should always bear in mind. The two words of the standard: "majestic and distinguished" are for me the essence of the breed. My ideal dog is the perfect balance of features that are normally in antithesis between each other: working and distinguished dog, powerful and agile dog. It is the most perfect balance of these features.
Do you work together with other breeders for the selection of the type?
There is a good relationship with the people who, like me, really have this breed in their heart. With these people, for which the preservation and the selection of the breed is really important, there is a good collaboration. I have no time to waste with people who "use" the breed for other purposes.