DOGS
HINT OF BLUE DI SELVASPINA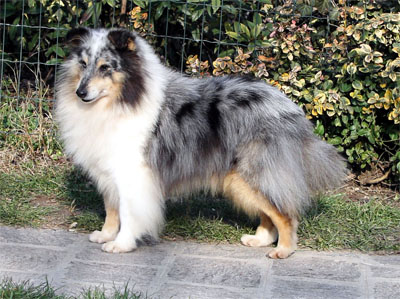 DOG - BORN ON 21/12/1997


Ch. Black Italian Coffee di Selvaspina

Skerrywood Suede in Black

Shelerts Such a Sweep

Skerrywood Silver Spangue

Tumberly Tomboy

Ch. Pepperhill Naughty But Nice

Loughrigg Sea Witch

Ch. Sonymer Blue Memory

Herds It's Hindsight

Hailsham of Herds

Herds it's Hearsay

Sonymer Sweetness and Light

Pepperhill Gifted and Black

Miseltoe of Sonymer

Ch. Hanburyhill Hoar Frost

Ch. Cultured at Cashella

Herds it's Hindsight

Hailsham of Herds

Herds it's Hearsay

Beckwith Bit of a Dremagirl

Ch. Herriot of Herds

Beckwith Bit of a Charmer

Marklin Estella

Deloraine Deerhunter

Ch.Beckwith Bit of a Vagabond at Shel.

Deloraine Dolly Blue

Marklin Day Dream

Ch. Ruscombe Silver Lining

Marklin Cheri-B
Joy is our beloved old boy, great personality and temperament despite his hard life of indigence and undeserved suffers. My little dear Joy, who will pay for all the pains those evil disgraceful dishonest people have caused you?
Joy is still fertile and an excellent stud dog, but only available to selected bitches. His bloodline is very precious to us.
A big thank you to Anna and Nadia.
For more information mail to alfredo.gili@gmail.com